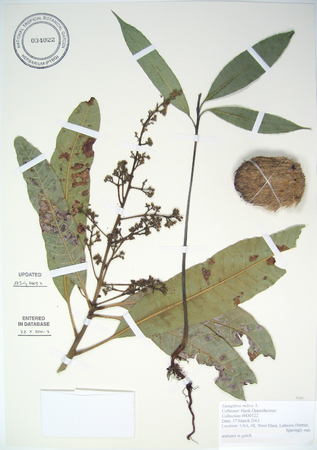 Other Resources for Mangifera indica
Taxonomy:
Mangifera indica (Anacardiaceae)

Common Names:
English Name:
Mango


French Names:
Mangot
Mangue
Manguier

Portuguese Names:
Manga
Mangueira

Dutch Name:
Manja

African Names:
Mangou
Mangoro

Classification:

Mangifera indica L.
Kingdom: Plantae-Plants
Subkingdom: Tracheobionta-Vascular plants
Superdivision: Spermatophyta-Seed plants
Division: Magnoliophyta-Flowering plants
Class: Magnoliopsida-Dicotyledons
Subclass: Rosidae
Order: Sapindales
Family: Anacardiaceae-Sumac family
Genus: Mangifera L. - Mango
Species: Mangifera indica L. - Mango
(National Plant Database. 2004.)
Description:
The Mango tree is erect, 30 to 100 ft (roughly 10-30 m) high, with a broad, rounded canopy which may, with age, attain 100 to 125 ft (30-38 m) in width, or a more upright, oval, relatively slender crown.
The tree is long-lived, some specimens being known to be 300 years old and still fruiting. Nearly evergreen, alternate leaves are borne mainly in rosettes at the tips of the branches and numerous twigs from which they droop like ribbons on slender petioles 1 to 4 in (2.5-10 cm) long. The new leaves, appearing periodically and irregularly on a few branches at a time, are yellowish, pink, deep-rose or wine-red, becoming dark-green and glossy above, lighter beneath. The midrib is pale and conspicuous and the many horizontal veins distinct. Full-grown leaves may be 4 to 12.5 in (10-32 cm) long and 3/4 to 2 1/8 in (2-5.4 cm) wide. Hundreds and even as many as 3,000 to 4,000 small, yellowish or reddish flowers, 25 to 98 % male, the rest hermaphroditic, are borne in profuse, showy, erect, pyramidal, branched clusters 2 1/2 to 15 1/2 in (6-40 cm) high. There is great variation in the form, size, color and quality of the fruits. They may be nearly round, oval, ovoid-oblong, or somewhat kidney-shaped, often with a break at the apex, and are usually more or less lop-sided. They range from 2 1/2 to 10 in (6.25-25 cm) in length and from a few ounces to 4 to 5 lbs (1.8-2.26 kg). The skin is leathery, waxy, smooth, fairly thick, aromatic and ranges from light-or dark-green to clear yellow, yellow-orange, yellow and reddish-pink, or more or less blushed with bright-or dark-red or purple-red, with fine yellow, greenish or reddish dots, and thin or thick whitish, gray or purplish bloom, when fully ripe. Some have a "turpentine" odor and flavor, while others are richly and pleasantly fragrant. The flesh ranges from pale-yellow to deep-orange. It is essentially peach-like but much more fibrous, extremely juicy, with a flavor range from very sweet to subacid to tart. There is a single, longitudinally ribbed, pale yellowish-white, somewhat woody stone, flattened, oval or kidney-shaped, sometimes rather elongated. Within the stone is the starchy seed, monoembryonic - usually single-sprouting or polyembryonic - usually producing more than one seedling.
(Morton, J. 1987. Mango. Fruits of Warm Climates.)

Geographic Distribution:
Mango is native to southern Asia, especially eastern India, Burma, and the Andaman Islands. (Morton, J. 1987. Mango. Fruits of Warm Climates.)

Food Uses:
Mangos should always be washed to remove any sap residue, before handling. Some seedling mangos are so fibrous that they cannot be sliced.
Instead, they are massaged, the stem-end is cut off, and the juice squeezed from the fruit into the mouth. Non-fibrous mangos may be cut in half to the stone, the two halves twisted in opposite directions to free the stone which is then removed, and the halves served for eating as appetizers or dessert. Or the two "cheeks" may be cut off, following the contour of the stone, for similar use; then the remaining side "fingers" of flesh are cut off for use in fruit cups, etc. Most people enjoy eating the residual flesh from the seed and this is done most neatly by piercing the stem-end of the seed with the long central tine of a mango fork, commonly sold in Mexico, and holding the seed upright like a lollypop. Small mangos can be peeled and mounted on the fork and eaten in the same manner. If the fruit is slightly fibrous especially near the stone, it is best to peel and slice the flesh and serve it as dessert, in fruit salad, on dry cereal, or in gelatin or custards, or on ice cream. The ripe flesh may be spiced and preserved in jars. Surplus ripe mangos are peeled, sliced and canned in sirup, or made into jam, marmalade, jelly or nectar. The extracted pulpy juice of fibrous types is used for making mango halva and mango leather. Sometimes corn flour and tamarind seed jellose are mixed in. Mango juice may be spray-dried and powdered and used in infant and invalid foods, or reconstituted and drunk as a beverage. The dried juice, blended with wheat flour has been made into "cereal" flakes, A dehydrated mango custard powder has also been developed in India, especially for use in baby foods.
Ripe mangos may be frozen whole or peeled, sliced and packed in sugar (1 part sugar to 10 parts mango by weight) and quick-frozen in moisture-proof containers. The diced flesh of ripe mangos, bathed in sweetened or unsweetened lime juice, to prevent discoloration, can be quick-frozen, as can sweetened ripe or green mango puree. Immature Mangos are often blown down by spring winds. Half-ripe or green Mangos are peeled and sliced as filling for pie, used for jelly, or made into sauce which, with added milk and egg whites, can be converted into Mango sherbet. Green Mangos are peeled, sliced, parboiled, then combined with sugar, salt, various spices and cooked, sometimes with raisins or other fruits, to make chutney. Or they may be salted, sun-dried and kept for use in chutney and pickles. Thin slices, seasoned with turmeric, are dried, and sometimes powdered, and used to impart an acid flavor to chutneys, vegetables and soup. Green or ripe Mangos may be used to make relish. In Thailand, green-skinned Mangos of a class called "keo", with sweet, nearly fiberless flesh and very commonly grown and inexpensive on the market, are soaked whole for 15 days in salted water before peeling, slicing and serving with sugar.

Processing of Mangos for export is of great importance in Hawaii in view of the restrictions on exporting the fresh fruits. Hawaiian technologists have developed methods for steam- and lye-peeling, also devices for removing peel from unpeeled fruits in the preparation of nectar. Choice of suitable cultivars is an essential factor in processing Mangos for different purposes.
The fresh kernel of the mango seed (stone) constitutes 13% of the weight of the fruit, 55% to 65% of the weight of the stone. The kernel is a major by-product of the mango-processing industry.
In times of food scarcity in India, the kernels are roasted or boiled and eaten. After soaking to dispel the astringency (tannins), the kernels are dried and ground to flour which is mixed with wheat or rice flour to make bread and it is also used in puddings. The fat extracted from the kernel is white, solid like cocoa butter and tallow, edible, and has been proposed as a substitute for cocoa butter in chocolate. The peel constitutes 20% to 25% of the total weight of the fruit. Researchers in India have shown that the peel can be utilized as a source of pectin.
Immature Mango leaves are cooked and eaten in Indonesia and the Philippines.
(Morton, J. 1987. Mango. Fruits of Warm Climates.)


Dangerous/Poisonous:
The sap, which exudes from the stalk close to the base of the fruit is somewhat milky at first, also yellowish-resinous.
It becomes pale-yellow and translucent when dried. It contains mangiferen, resinous acid, mangiferic acid, and the resinol, mangiferol. It, like the sap of the trunk and branches and the skin of the unripe fruit, is a potent skin irritant, and capable of blistering the skin of the normal individual. As with poison ivy, there is typically a delayed reaction. Hypersensitive persons may react with considerable swelling of the eyelids, the face, and other parts of the body. They may not be able to handle, peel, or eat Mangos or any food containing Mango flesh or juice. A good precaution is to use one knife to peel the Mango, and a clean knife to slice the flesh to avoid contaminating the flesh with any of the resin in the peel.
The leaves contain the glucoside, mangiferine. In India, cows were formerly fed Mango leaves to obtain from their urine euxanthic acid which is rich yellow and has been used as a dye. Since continuous intake of the leaves may be fatal, the practice has been outlawed.
When Mango trees are in bloom, it is not uncommon for people to suffer itching around the eyes, facial swelling and respiratory difficulty, even though there is no airborne pollen. The few pollen grains are large and they tend to adhere to each other even in dry weather. The stigma is small and not designed to catch windborne pollen. The irritant is probably the vaporized essential oil of the flowers which contains the sesquiterpene alcohol, mangiferol, and the ketone, mangiferone.
Mango wood should never be used in fireplaces or for cooking fuel, as its smoke is highly irritant.
(Morton, J. 1987. Mango. Fruits of Warm Climates.)



Medicinal Uses:**
Dried Mango flowers, containing 15% tannin, serve as astringents in cases of diarrhea, chronic dysentery, catarrh of the bladder and chronic urethritis resulting from gonorrhea.
The bark contains mangiferine and is astringent and employed against rheumatism and diphtheria in India. The resinous gum from the trunk is applied on cracks in the skin of the feet and on scabies, and is believed helpful in cases of syphilis.
Mango kernel decoction and powder (not tannin-free) are used as vermifuges and as astringents in diarrhea, hemorrhages and bleeding hemorrhoids. The fat is administered in cases of stomatitis. Extracts of unripe fruits and of bark, stems and leaves have shown antibiotic activity. In some of the islands of the Caribbean, the leaf decoction is taken as a remedy for diarrhea, fever, chest complaints, diabetes, hypertension and other ills. A combined decoction of Mango and other leaves is taken after childbirth.
(Morton, J. 1987. Mango. Fruits of Warm Climates.)




** The information provided above is not intended to be used as a guide for treatment of medical conditions using plants.
Status:
In time, the Mango became one of the most familiar domesticated trees in dooryards or in small or large commercial plantings throughout the humid and semi-arid lowlands of the tropical world and in certain areas of the near-tropics such as the Mediterranean area (Madeira and the Canary Islands), Egypt, southern Africa, and southern Florida.
Local markets throughout its range are heaped high with the fragrant fruits in season and large quantities are exported to non-producing countries.
(Morton, J. 1987. Mango. Fruits of Warm Climates.)


Native Legends and Names:
Mango has been cultivated, praised and even revered in its homeland since Ancient times. Buddhist monks are believed to have taken the Mango on voyages to Malaya and eastern Asia in the 4th and 5th Centuries B.C.
The Persians are said to have carried it to East Africa about the 10th Century A.D. It was commonly grown in the East Indies before the earliest visits of the Portuguese who apparently introduced it to West Africa early in the 16th Century and also into Brazil. After becoming established in Brazil, the Mango was carried to the West Indies, being first planted in Barbados about 1742 and later in the Dominican Republic. It reached Jamaica about 1782 and, early in the 19th Century, reached Mexico from the Philippines and the West Indies. In 1833, Dr. Henry Perrine shipped seedling Mango plants from Yucatan to Cape Sable at the southern tip of mainland Florida but these died after he was killed by Indians. Seeds were imported into Miami from the West Indies by a Dr. Fletcher in 1862 or 1863. From these, two trees grew to large size and one was still fruiting in 1910 and is believed to have been the parent of the "No. 11" which was commonly planted for many years thereafter.
(Morton, J. 1987. Mango. Fruits of Warm Climates.)


Indigenous Practices:
After soaking and drying to 10% moisture content, the kernels are fed to poultry and cattle. Without the removal of tannins, the feeding value is low.
Cuban scientists declare that the mineral levels are so low mineral supplementation is needed if the kernel is used for poultry feed, for which purpose it is recommended mainly because it has little crude fiber.
Having high stearic acid content, the fat of the seeds is desirable for soap-making. The seed residue after fat extraction is usable for cattle feed and soil enrichment. A Mango stone decorticator has been designed and successfully operated by the Agricultural Engineering Department of Pantnagar University, India.
The wood of Mango is kiln-dried or seasoned in saltwater. It is gray or greenish-brown, coarse-textured, medium-strong, hard, durable in water but not in the ground, easy to work and finishes well. In India, after preservative treatment, it is used for rafters and joists, window frames, agricultural implements, boats, plywood, shoe heels and boxes, including crates for shipping tins of cashew kernels. It makes excellent charcoal.
The bark of the tree possesses 16% to 20% tannin and has been employed for tanning hides. It yields a yellow dye, or, with turmeric and lime, a bright rose-pink dye.
A somewhat resinous, red-brown gum from the trunk is used for mending crockery in tropical Africa. In India, it is sold as a substitute for gum arabic.
(Morton, J. 1987. Mango. Fruits of Warm Climates.)

(Information for this species compiled and recorded by Camelia Cirnaru, NTBG Consultant.)



NTBG Herbarium Data: